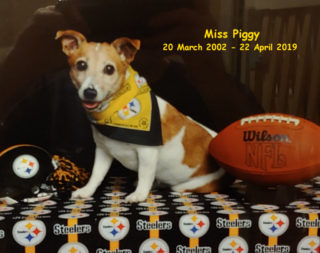 Miss Piggy (aka Piggy), our Jack Russell Shorty went to live in Doggie Heaven on 23 April 2019.
Piggy moved in with us and her late stepbrother Gunston in November 2004. She was a typical Jack Russell – full of energy and ready to chase her beloved tennis balls as long as one was willing to throw them. she was not a hunter like Gunston. But she was always willing to join in to help chase those pesky squirrels.
She will be sorely missed by all.
RIP Piggy, 20 March 2002 – 23 April 2019